Deprecated
: Function get_magic_quotes_gpc() is deprecated in
/home/dh_chrtho139/healthy-headlines.com/wp-includes/formatting.php
on line
4358
Deprecated
: Function get_magic_quotes_gpc() is deprecated in
/home/dh_chrtho139/healthy-headlines.com/wp-includes/formatting.php
on line
4358
Deprecated
: Function get_magic_quotes_gpc() is deprecated in
/home/dh_chrtho139/healthy-headlines.com/wp-includes/formatting.php
on line
4358
Deprecated
: Function get_magic_quotes_gpc() is deprecated in
/home/dh_chrtho139/healthy-headlines.com/wp-includes/formatting.php
on line
4358
Deprecated
: Function get_magic_quotes_gpc() is deprecated in
/home/dh_chrtho139/healthy-headlines.com/wp-includes/formatting.php
on line
4358
Deprecated
: Function get_magic_quotes_gpc() is deprecated in
/home/dh_chrtho139/healthy-headlines.com/wp-includes/formatting.php
on line
4358
Deprecated
: Function get_magic_quotes_gpc() is deprecated in
/home/dh_chrtho139/healthy-headlines.com/wp-includes/formatting.php
on line
4358
Deprecated
: Function get_magic_quotes_gpc() is deprecated in
/home/dh_chrtho139/healthy-headlines.com/wp-includes/formatting.php
on line
4358
Deprecated
: Function get_magic_quotes_gpc() is deprecated in
/home/dh_chrtho139/healthy-headlines.com/wp-includes/formatting.php
on line
4358
Deprecated
: Function get_magic_quotes_gpc() is deprecated in
/home/dh_chrtho139/healthy-headlines.com/wp-includes/formatting.php
on line
4358
Deprecated
: Function get_magic_quotes_gpc() is deprecated in
/home/dh_chrtho139/healthy-headlines.com/wp-includes/formatting.php
on line
4358
Deprecated
: Function get_magic_quotes_gpc() is deprecated in
/home/dh_chrtho139/healthy-headlines.com/wp-includes/formatting.php
on line
4358
Deprecated
: Function get_magic_quotes_gpc() is deprecated in
/home/dh_chrtho139/healthy-headlines.com/wp-includes/formatting.php
on line
4358
Hey hey! How's the week going? I hope you're enjoying the day, and happy Valentine's Day to all of you. My valentine is out of town (again), but I'm excited to celebrate with the little ladies and enjoy Galentine's dinner with Meg later tonight. Thank goodness he'll be back later tonight – the girls were like "what the heck?" when they found out he had to leave again for a bit – but we'll celebrate with him in the morning.
Some adventures from lately:
Livi's school had a family Valentine's dance last weekend, so we had a blast taking the girls to the event.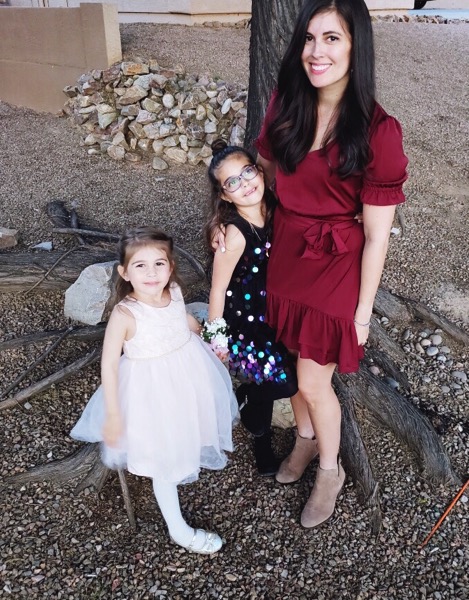 Pre-dance hair shot: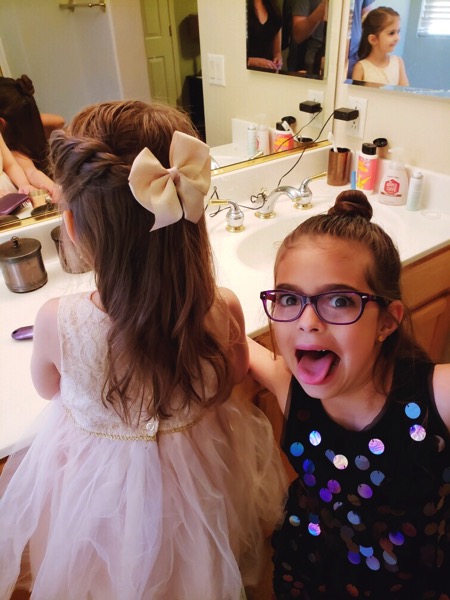 The cutest ever. <3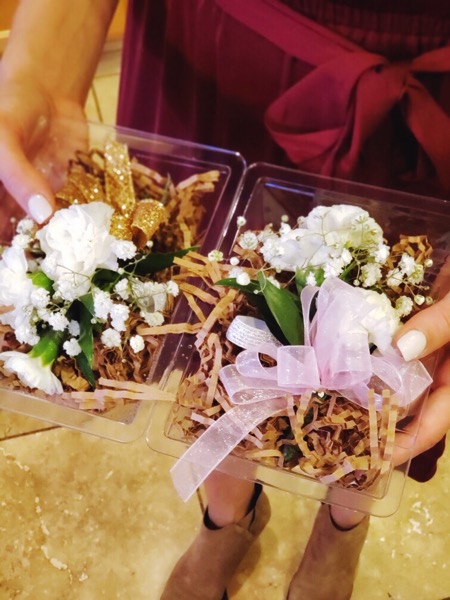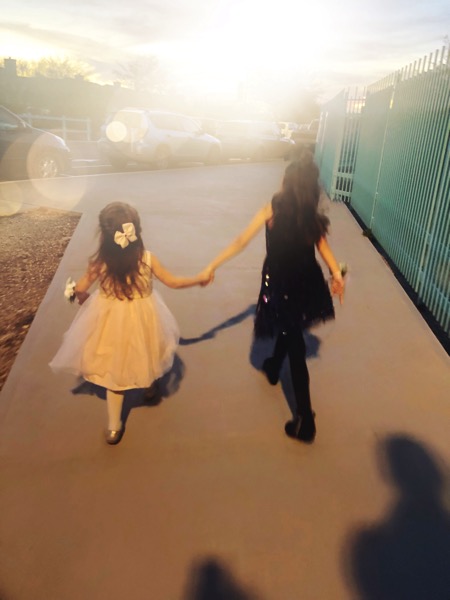 They had a DJ playing awesome music, crafts, a Photo Booth, and lots of snacks. Most of the kids ran around (= dancing) with their friends. We danced with P while Livi was off with her little friends, and then the girls ate pizza on the floor. I want to recreate this photo when they're teenagers.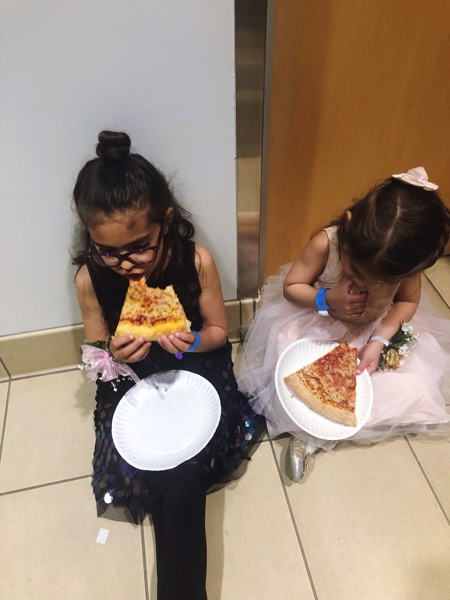 Also, this photo: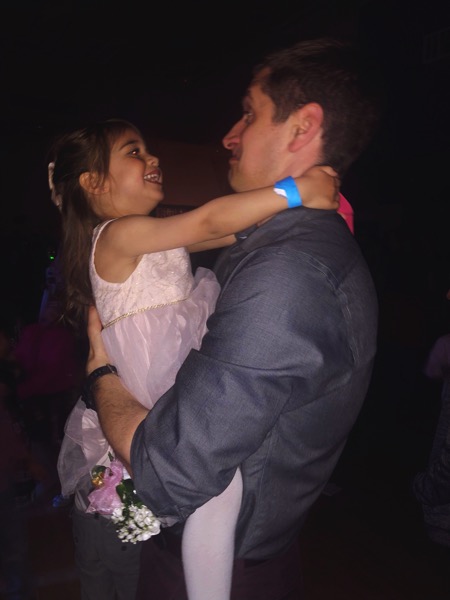 reminded me way too much of this one.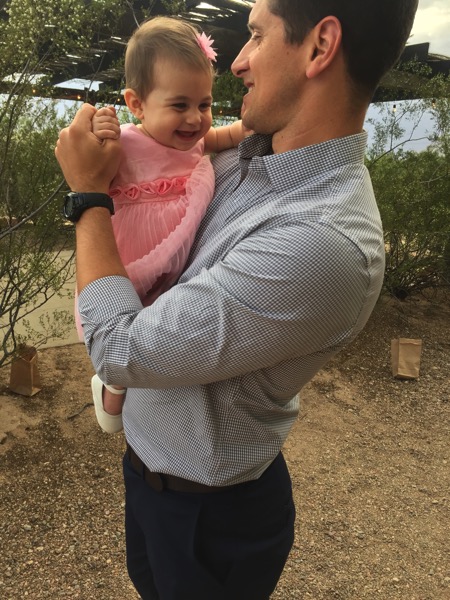 Brb while I go cry.
After the dance, our babysitter met us at the house and the Pilot and I went to dinner at Tito & Pep. I felt badly leaving our awesome sitter with the new bedtime routine (we told her if it didn't work it was NBD if they were still up when we came home), but as expected, the girls fell asleep in their respective beds for her. *sigh of relief*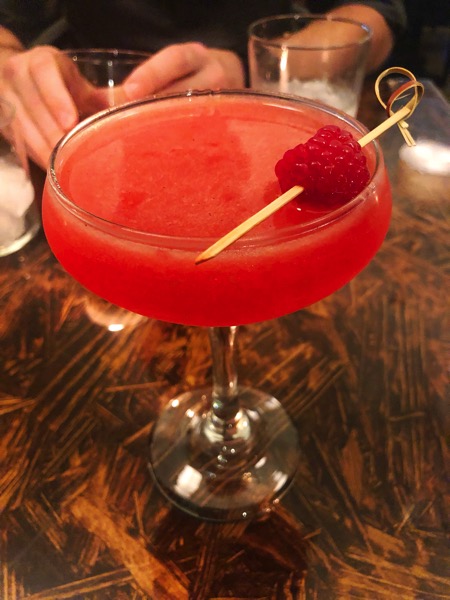 (Did they stay asleep? Of course not. I have a call with a sleep expert tomorrow and will report back! We can actually get them to fall asleep in their beds now but staying in their rooms is where everything crumbles.)
Tito & Pep was AMAZING. Kyle had recommended it and if he recommends anything, you know it's going to be good. I was smarter this time and got reservations (a must) and we were seated right away. Tito & Pep is a smaller restaurant with modern Mexican fare.
I started off with the Catalina Sunrise: a cocktail with gin, raspberry, and rosé. It was fruity and bubbly.. and brought me back to life a little after a week with no sleep.
We shared a bass ceviche appetizer, which came with fresh corn tostada.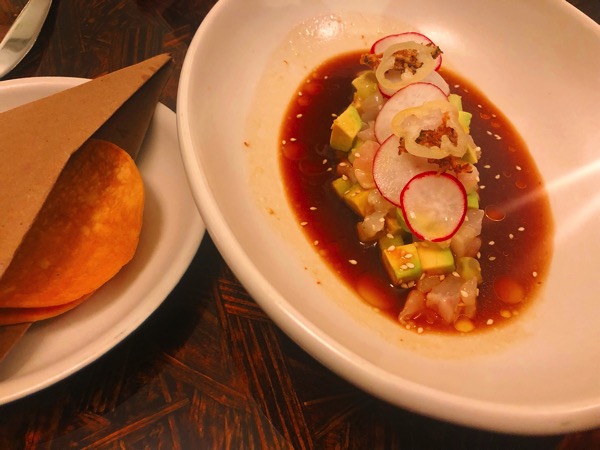 And for my entree, I had the chicken with sweet potato puree. No joke, it's probably the best restaurant chicken I've ever had. It was coated in a savory rub and cooked to perfection.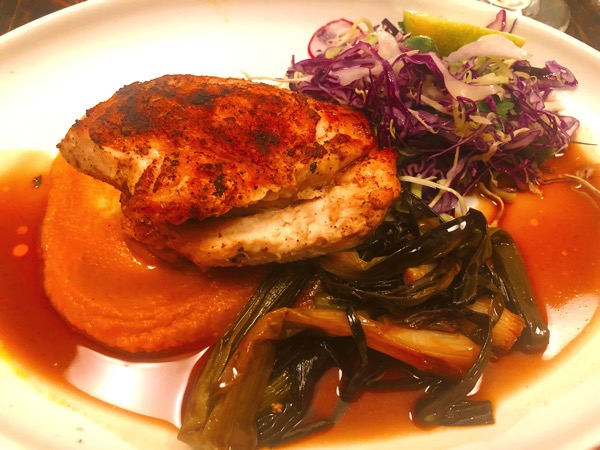 Of course we had dessert. This was a flourless chocolate creation with orange peel and we devoured every last bite.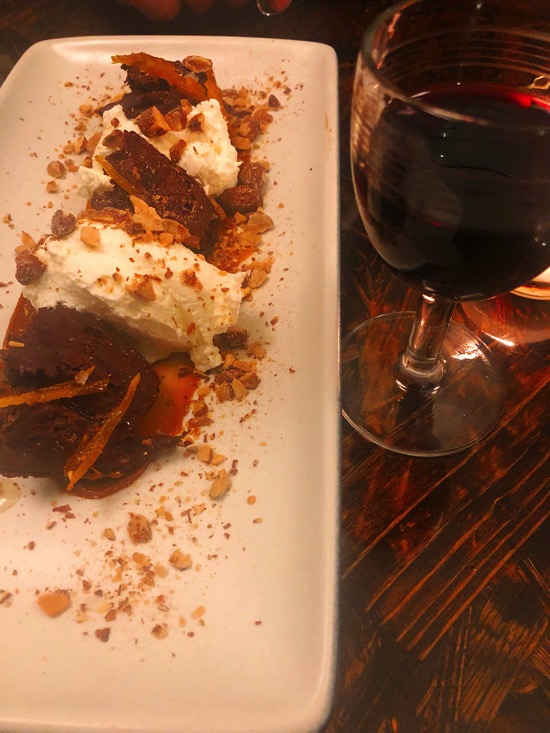 For dinners this week, things have been pretty low-key since we jumped back into solo parent ops. I made chicken soup one night since P had a cold, the next night we had turkey meatloaf (the girls love this recipe and the leftovers are perfect protein boosts) with sweet potato fries and salads, we enjoyed Eating Bird Food's quiche with roasted veggies and sourdough bread,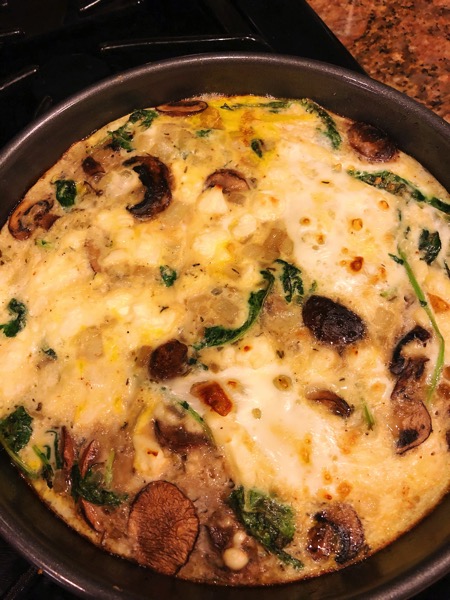 and we also had frozen Daiya and Amy's pizzas one night. 😉
Workout-wise, it's been kind of an off week with the Pilot being gone and P's little cold. I'm excited to get back into things today!
Hope you all have a wonderful day and I'll see ya in the morning with some faves.
Valetine's Day: are you all about it, or not-so-much? Any fun plans tonight??
xo
Gina
Looking for a workout? Try this Valentine's Day partner workout with your bae (do people still say that?) or bff.