Deprecated
: Function get_magic_quotes_gpc() is deprecated in
/home/dh_chrtho139/healthy-headlines.com/wp-includes/formatting.php
on line
4358
Deprecated
: Function get_magic_quotes_gpc() is deprecated in
/home/dh_chrtho139/healthy-headlines.com/wp-includes/formatting.php
on line
4358
Deprecated
: Function get_magic_quotes_gpc() is deprecated in
/home/dh_chrtho139/healthy-headlines.com/wp-includes/formatting.php
on line
4358
Deprecated
: Function get_magic_quotes_gpc() is deprecated in
/home/dh_chrtho139/healthy-headlines.com/wp-includes/formatting.php
on line
4358
Deprecated
: Function get_magic_quotes_gpc() is deprecated in
/home/dh_chrtho139/healthy-headlines.com/wp-includes/formatting.php
on line
4358
Deprecated
: Function get_magic_quotes_gpc() is deprecated in
/home/dh_chrtho139/healthy-headlines.com/wp-includes/formatting.php
on line
4358
Deprecated
: Function get_magic_quotes_gpc() is deprecated in
/home/dh_chrtho139/healthy-headlines.com/wp-includes/formatting.php
on line
4358
Deprecated
: Function get_magic_quotes_gpc() is deprecated in
/home/dh_chrtho139/healthy-headlines.com/wp-includes/formatting.php
on line
4358
Deprecated
: Function get_magic_quotes_gpc() is deprecated in
/home/dh_chrtho139/healthy-headlines.com/wp-includes/formatting.php
on line
4358
Deprecated
: Function get_magic_quotes_gpc() is deprecated in
/home/dh_chrtho139/healthy-headlines.com/wp-includes/formatting.php
on line
4358
Deprecated
: Function get_magic_quotes_gpc() is deprecated in
/home/dh_chrtho139/healthy-headlines.com/wp-includes/formatting.php
on line
4358
Deprecated
: Function get_magic_quotes_gpc() is deprecated in
/home/dh_chrtho139/healthy-headlines.com/wp-includes/formatting.php
on line
4358
Deprecated
: Function get_magic_quotes_gpc() is deprecated in
/home/dh_chrtho139/healthy-headlines.com/wp-includes/formatting.php
on line
4358
The Benefits of a Moisturizer With SPF
If you're not partial to your existing moisturizer, we'd suggest putting an SPF-packed one in rotation for daytime use, since a lifetime of UV-ray blockage could shave 10 years off your appearance by the time you're 60. The obvious reason to choose a moisturizer with SPF is you get to shave off part of your skincare routine; it does doubly duty—perfect for the minimalist.
As for acne-prone skin, the same rules apply here as with facial sunscreen: Avoid oil-based formulas (except those with non-comedogenic oils, which we'll discuss later), and avoid any with synthetic fragrance. Again, SPF 30 should be the minimum, whereas fairer skin types should opt for SPF 50.
With all this in mind, read our top picks for the best sunscreen for acne-prone skin. We've selected a range of mineral and chemical face sunscreens and moisturizers that boast SPF 30 or higher.
Best Sunscreens for Acne-Prone Skin
Supergoop Unseen Sunscreen SPF 40
A chemical-powered face sunscreen, Supergoop's oil-free formula sits light atop your facial moisturizer, blending seamlessly under patchy beards to shield sun-exposed skin. A little goes a long way—a pea-sized amount will cover most of your mug.
[From $20; supergoop.com]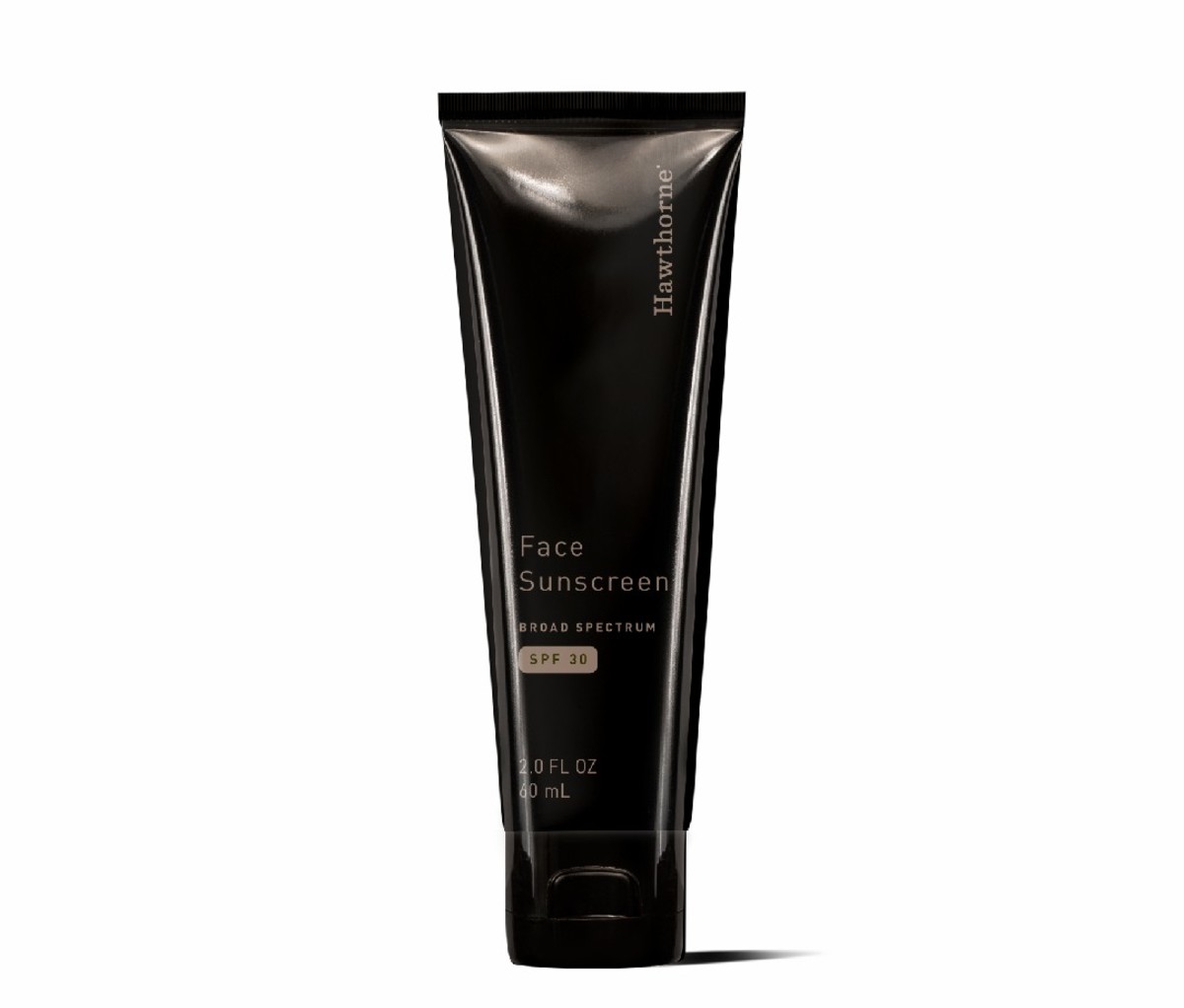 Hawthorne Mineral Face Sunscreen SPF 30
Hawthorne's oil-free face sunscreen combines both types of mineral sunblock—titanium dioxide and zinc oxide—to ensure you get thorough coverage minus the chalky white cast other zinc-only options often leave behind. It also deploys coconut alkanes and green tea extract to hydrate and shield the skin against pollution (which itself poses photo-aging damage, much like UV rays).